Frontier Toyota started out as one in a group of companies that together comprised a family-owned enterprise - Marcel & Valerie Thompson of St. Boniface.  In 2012, Frontier Toyota joined The Jim Pattison Auto Group, joining one of the largest auto groups in Western Canada.
Following in his father footsteps, Marcel proved that being a successful salesperson was genetic. After pursuing a number of successful business ventures, Marcel opened Frontier Toyota back in 1975 in a ROCO gas station on Regent Avenue, along with founding partner James Carey. Between 1975 to 1989, Marcel and James dedicated themselves to customer service and providing automotive expertise to the community.  They expanded by building a new dealership on the lot right beside the gas station.  Marcel met his beautiful wife at his used car lot in 1963 and they were married a year later. While Valarie never did end up purchasing a car on that fateful day back in 1963, she did become an integral part of the Frontier Team. In 1995, Val decided to reopen Thompson City Centre Collision, and having outgrown the downtown facility in 1999, she changed locations and renamed it
Frontier Autobody
. In 1998, Marcel and Valerie added another dealership to their family by opening
Frontier Subaru
.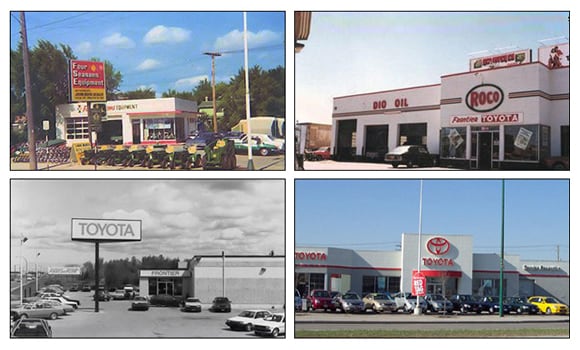 Throughout the years, Marcel & Val have made significant contributions to the community, whether it is with their time or their generosity, because they have always believed in giving back. Over the years, they have made significant donations to the St. Amant Centre, St. Boniface Hospital & Research Foundation, the Winnipeg Foundation, Leaf Manitoba and the Salvation Army. The Jim Pattison Auto Group is proud to be a part of the community in Winnipeg and work with all of the amazing people from the Frontier franchise.